Wailea Elua Village
Situated in the heart of Wailea, this gated beachfront community is quiet, exclusive and luxurious. Fronting beautiful Ulua beach, this resort is a true treasure of South Maui, and not to be missed.
About Wailea elua village
Learn more about beautiful and luxurious Wailea Elua Village
reservations policy
Please take a moment to acquaint yourself with our reservations policy for Wailea Elua Village.
Property map
Browse the property map for Wailea Elua.
Wailea Elua Village
---
Wailea Elua Village is a deluxe property located on the beach in Wailea and boasts 152 condos on 24 acres of lush tropical landscapes, luxury accommodations and breath-taking ocean views from low-rise clustered buildings. Located in the heart of Wailea, on Maui's sunny south shore, Wailea Elua is located on white sandy Ulua Beach, one of Wailea's premier snorkeling and dive beaches and is adjacent to Wailea's award winning Blue Golf Course just east of the Shops at Wailea. Special rates are available at Wailea's golf and tennis facilities for Elua guests. Hotels, spa facilities and award winning restaurants are within walking distance.
Ideal for families, couples and friendly get-togethers, the beautifully appointed one-, two-, and three-bedroom condominiums offer spectacular ocean or garden views and luxury amenities including weekly housekeeping and concierge service. Each condo has a private lanai, is tastefully furnished and has a fully equipped kitchen with dishwasher and microwave as well as a washer/dryer, cable TV and A/C.
Wailea Elua boasts two large swimming pools, one overlooking the beach with barbecue facilities for entertaining, a whirlpool spa, paddle tennis court and putting green. Picturesque Ulua Beach is just steps away and is ideal for family fun, snorkeling, swimming, sailing, windsurfing or just relaxing. Located on the mile-and-a-half beach walk which gently meanders along the Wailea Resort beach and oceanfront, Wailea Elua Village offers the security of a gated access and the convenience of Wailea's many shopping, dining and entertainment choices. Wailea Elua is a gated resort.
---
Wailea Elua Village Reservation Policy
PLEASE READ ALL ELUA VILLAGE HOUSE RULES.
NOTE: ALL UNITS AT ELUA VILLAGE AND WITH WAILEA VACATION RENTALS ARE DESIGNATED "NON-SMOKING".
DEPOSIT
Payment terms are per guest booking platform, reservation website or travel agent. When booking directly with WVR, a 3-night deposit is required at the time of booking. Final balance due 60 days prior to arrival. Please call to make credit card payment. If arrival is less than 60 days, full payment is due at the time of booking. No other notice will be sent. All Holiday reservations are due, paid-in-full on October 1. We accept personal check, agency check, money order, cashier's check, and VISA / MASTERCARD/ AMERICAN EXPRESS. Return Check fee: $45.00
CHECK-IN CHECK-OUT TIMES
CHECK-IN TIME 3:00 P.M. – CHECK-OUT TIME 11:00 A.M.  Due to housekeeping scheduling, flexibility for early check-in or late check-out is not permitted. PLEASE make arrangements for early check-in or late check-out, upon receipt of this reservation confirmation.  
CANCELLATION POLICY 
60-day cancellation notice is required. A $200.00 cancellation fee plus credit card charges will be collected on all cancellations. If cancelled within 60 days of arrival, no refunds unless unit is re-rented for dates cancelled. Christmas/New Year, no cancellations or refunds after October 1st. Full payment due Oct. 1st. 
PAYMENT FOR NIGHTS RESERVED
Guests are responsible for payment of all nights reserved regardless of the actual arrival or departure date.
MAXIMUM OCCUPANCY INCLUDING CHILDREN: 1 BD: 4 people, 2 BD: 6 people, 3 BD: 8 people.
NO EXCEPTIONS. NO REFUND FOR EARLY DEPARTURE.
ARRIVAL
Upon arrival on Maui, you may go directly to Wailea Elua Village, located at 3600 Wailea Alanui Drive; Wailea, Maui, Hawaii 96753. The unit will be locked, and the keys (or code for electronic locks) will be in an addressed envelope at the Security Gate for you.  Please have your ID ready to show.
HOUSEKEEPING SERVICES  
Housekeeping charges on the reservation confirmation are for departure cleaning services only. If guests request additional housekeeping services during their stay, service can be arranged for a fee. Please contact us upon confirmation of reservation if additional housekeeping services are needed. A starter kit of supplies is provided at arrival, any further supplies are the guests' responsibility unless additional housekeeping services are arranged, and housekeeper will replenish during that service.
PETS
Pets are not allowed in unit except for service animals. All federal, state, and county laws must be observed. Any damage caused by animal will be charged to the credit card on file.
DAMAGE FEE
This damage waiver fee is in lieu of a security deposit. This fee will cover damages up to $2,000.00. Covered Guest agrees that damages in excess of the DPW limit will be paid by Guest immediately. Covered Guest authorizes Wailea Vacation Rentals to charge the cost of damages to credit card on file. This coverage is not insurance and does not provide liability coverage, it only covers miscellaneous damage such as broken glasses, dishes, lamps, damages to the walls or furniture and lost inventory items (towels, glasses, chairs etc.). This waiver does not cover theft, intentional misuse or careless/reckless damage. We ask that Guests remain diligent in their care of the property as a home-away-from-home.
FORCE MAJEURE
Guests understand that they are renting an individual, unique private property and acknowledge that unforeseen things may happen which will affect the terms of this reservation agreement.  WVR reserves the right to relocate a guest due to acts of man and nature which may have caused a property to be unavailable for a previously reserved time period.  A property may suffer damage or sell with no notice to all parties and  reservations may have to be relocated or cancelled.  WVR will honor all reservations and care for all guests to the best of its ability. 
FEES
Wailea Elua Village has a $104.00 per rental check-in fee. Wailea Vacation Rentals has a $75.00 per rental reservation fee.
PRICES AND AVAILABILITY ARE SUBJECT TO CHANGE WITHOUT NOTICE
We hope your stay with Wailea Vacation Rentals is a pleasant one.
Please call us if you have any questions regarding your unit or your stay.
WAILEA ELUA FEATURES & AMENITIES
Fully equipped kitchen with coffee machine
Dishwasher
Ice maker
Wi-Fi
Televisions
Air conditioning
Washer/Dryer Iron/Ironing board
OUTDOOR FEATURES
Swimming pool
Outdoor living area
Beach equipment
Sun loungers
Wailea Elua Village
IMPORTANT INFORMATION:
Check in time – 3:00 pm. Check out time – 11:00 am.
For all Wailea Elua stays there is a $75 reservation fee and a $55 Damage fee.
Rates are currently taxed at %17.42 tax, per Hawaii State requirements.
5-night minimum stay.
60-day notice is required for cancellation. $200 cancellation fee, plus credit card fee will be charged on all cancellations. If cancelled within 60 days of arrival – No refund will be issued unless unit is re-rented for dates cancelled.
Rates and terms are subject to change without notice. We accept cash, checks, VISA, MasterCard and American Express.
If we may be of any further assistance, please call.
800-833-6301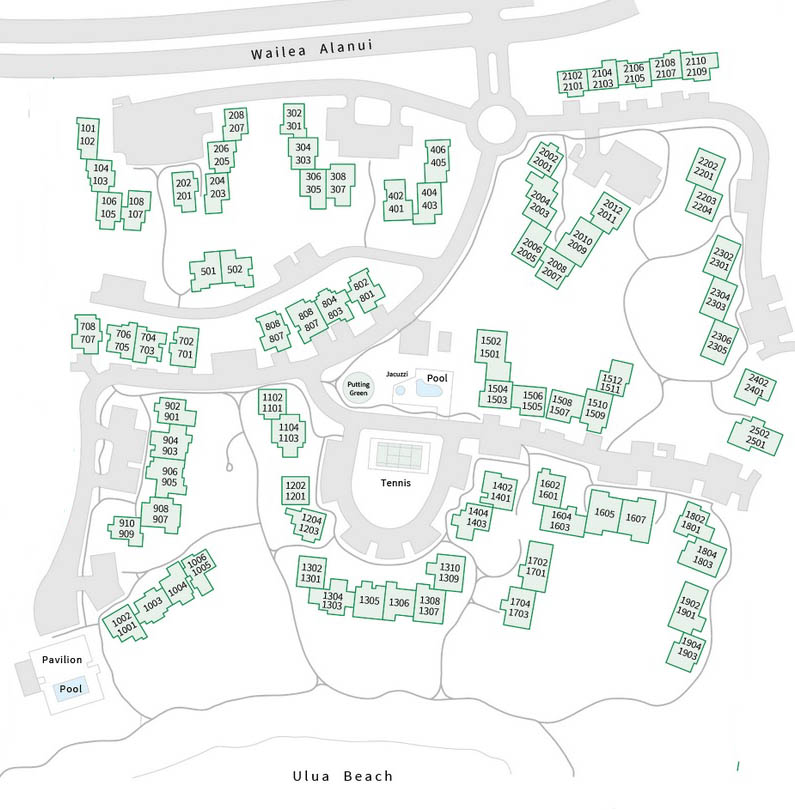 Wailea Elua Village House Rules
HOUSE RULES TO ENHANCE THE ENJOYMENT OF ALL AT ELUA
Aloha! Welcome to Wailea Elua Village!
On behalf of the owners and your rental agent, we wish you a happy stay in paradise.
To help ensure that we all enjoy our stays at Elua Village, we've adopted a number of house rules based on common sense and courtesy to others and we ask for your co-operation in observing them. Please contact your Rental Agent or the Homeowner's Office If you have any questions.
You are welcome to use all of these common facilities during designated hours:
Oceanfront Pool and Pavilion Facilities (8 a.m. to 10 p.m.)
Oceanfront Fitness Room (6 a.m. to 10 p.m.)
Upper Pool and Spa (8 a.m. to 9 p.m.)
Paddleball Court (8 a.m. to 6 p.m.)
Oceanfront and Upper Barbecue Facilities (11 a.m. to 9 p.m.)
Use of any Wailea Elua facility, including but not limited to the Pools, Spa and Fitness Room, is entirely at the risk of the person using such facility, and neither Wailea Elua homeowners nor Wailea Elua employees will be responsible for any injury resulting from such use.
Wailea Elua is neither a hotel nor a rental agent; therefore, except in the case of an emergency, please contact your rental agent/homeowner with any questions regarding the apartment in which you are staying and its furnishings and appliances. In case of emergency, call 911 and contact Elua Security (808-879-6648) immediately.
This Guest Handbook summarizes Elua Rules applicable to all homeowner guests. A complete copy of Elua Rules is available on request from the Homeowners Office.
Quiet Hours
Quiet Hours are to be observed 10 p.m. to 8 a.m. throughout Wailea Elua common areas and apartments.
During Quiet Hours, washers/dryers and vacuum cleaners may not be operated, and guests should refrain from use of entertainment devices and loud activity that can be heard in other apartments.
Common Areas (all of Wailea Elua outside apartments and lanais)
Boisterous activities and games are not allowed common areas.
Skateboards, roller blades and similar devices may not be used in common areas, except that bicycles may be used on paved driveways.
Lanais
Please refrain from loud conversation or cell phone use during Quiet Hours, and be considerate of others at other times.
Towels, bathing suits, clothing or other objects may not be hung on railings, walls, or stairways. Lanai furniture may be used in common areas, but must be returned to their lanai location when not in use.
No Smoking/Vaping Policy
Smoking/vaping is prohibited in all common areas. Smoking/vaping is not allowed inside apartments or on lanais unless permitted by the homeowner and smoke/vapor does not drift into another apartment or lanai.
Barbecue Grills.
General use propane barbecue grills are available for use at the barbecue areas located near the Oceanfront Pavilion and between buildings 20 and 22. General use barbecue grills may be reserved through the Homeowners Office.
Individual apartment propane barbecue grills may be used on apartment lanais, safely positioned away from flammable materials, from 11 a.m. to 9 p.m.
Vehicles and Parking
Only passenger vehicles may be operated by guests in Wailea Elua. The speed limit is 10 mph.
Parking spaces are unassigned and may be used by guests.
Handicap standards are available as needed on request from the Homeowners Office.
Refuse Disposal
All refuse must be disposed of in one of the designated locations in Wailea Elua.
Wet garbage must be enclosed in plastic bags.
Glass, aluminum cans, plastic bottles and newspapers should be placed in the recycling receptacles that are provided.
Pets
Pets are not allowed, except for homeowners' pets. Service animals are allowed if registered with the Homeowners Office.
Landscaping
Flowers and fruit may not be removed from Wailea Elua plantings.
POOL AND PAVILION RULES
No Lifeguard
No lifeguard is on duty at either pool.
Children under the age of 16 shall be supervised by a responsible adult.
Permitted Use and Conduct
Only homeowners and their guests may use the pools.
Shower off sand and salt water before entering the pool areas or the Oceanfront Pavilion.
Rinse off sunscreen/oils/lotions before using either pool.
Appropriate swim attire is to be worn at the pools and spa.
Anyone requiring diapers must use a swim diaper or waterproof pants. Child swim diapers are available in the Homeowners Office for a nominal charge. Please inform the Homeowners Office or Elua Security promptly in the event of an "accident".
Beach equipment, boards, toys, balls, scuba and snorkel equipment are not allowed in the pools. Safety swim devices may be used.
Boisterous games and activities are not permitted at any time.
Only audio devices with headphones/buds are permitted. Please refrain from cell phone use at the pool areas and the Oceanfront Pavilion.
Glassware of any kind may not be used on or near the Pool decks.
Pool/Pavilion Furniture
Pool furniture may not be reserved, "saved" or removed from the pool and lawn areas.
Carry, do not drag, pool and lawn furniture.
Please cover lounges and chairs with towels when using sunscreen/oils/lotions.
Upholstered Pavilion furniture is not to be used while eating or with wet swim attire.
Oceanfront Pool Quiet Hours
4 p.m. to 6 p.m. are "quiet hours" at the Oceanfront Pool. Please refrain from excessive noise and splashing.
FITNESS ROOM RULES
Permitted Use and Conduct
Only homeowners and their guests may use the Fitness Room.
Shower off sand and salt water before entering the Fitness Room.
Children under the age of 16 shall be supervised by a responsible adult.
Appropriate attire, including shoes with closed toes, is to be worn in the Fitness Room.
Do not remove free weights from the Fitness Room.
Wipe down equipment after use.
Glassware and food are not allowed in the Fitness Room.
Limit your use of equipment to a reasonable period not to exceed 30 minutes if others are waiting to use that equipment.
SAFETY TIPS
Precautions
Properly secure your apartment and vehicle when unoccupied, and your apartment before retiring for the evening.
Do not leave personal property unattended outside your apartment, and do not leave valuables exposed in your apartment or vehicle when you are not present.
Elua Security
If you see suspicious activity in Wailea Elua, please notify Elua Security Immediately.
We thank you for your co-operation and courtesy to others in observing the House Rules, knowing that this will enhance everyone's experience at Elua Village.
Aloha!
Book Wailea Elua village Now